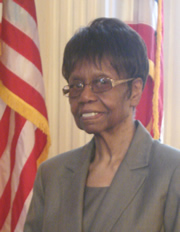 Pastor Dorothy Mae Grace Boone was born in Lugoff, South Carolina, the fourth daughter and seventh child of ten between the union of the late Moses and Hattie Jefferson. In July 1949 she married the late Reverend Dr. Willie R. Boone. Pastor (as she is affectionately known), gave her life to Christ, was baptized and filled with the Holy Ghost in Richmond, Virginia in 1954. As spiritual partners in the work of the Lord they shared a vision and zest for life for over sixty years. Together they were passionate advocates for souls and believed in winning the lost at any cost.
For Pastor, her faith is clearly the most important part of her life, and the Gospel is central to that faith. She has been a spiritual inspiration throughout the Northeast region of the United States and has ministered to The Cathedral of Higher Praise, Church of God of Prophecy for the past twenty two years. Under her guidance, the Grand Avenue church has experienced unprecedented growth and spiritual revival.
Today Pastor brings a powerful prophetic message of hope and deliverance. She has a passion for the ministry, and believes that the church is an empowerment center, furnished with the resources of God to train and develop mighty men and women of the Kingdom. She has served selflessly and faithfully in his community for over twenty years, and has touched and changed many lives. Under her leadership the church has extended itself to include Outreach Team (prison, hospital, outdoor ministry); Children's Ministry, Food Share Program; and Social Action Activities.
I Thank God that you've taken time to visit us online. it is our desire that you get to know us and our ministries, visit us often, and get involved! At Cathedral of Higher Praise Church of God of Prophecy we are seeking Gods Will to be done, Serving God's People, and Sharing's God Word through our ministries and outreach programs, worship service and fellowship.